Adidas Energy Boost 3 – In-Depth Review & Buying Guide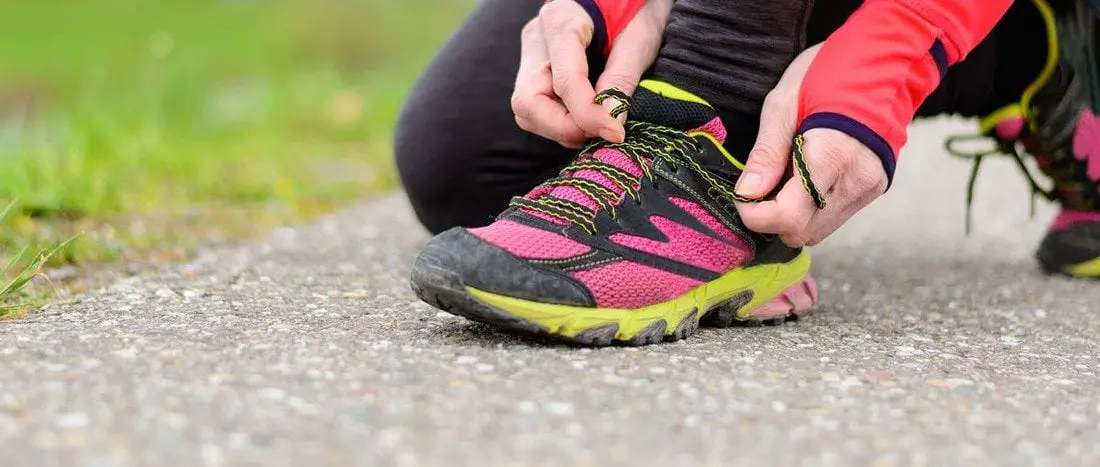 Running is arguably the best prescription for a healthy life. However, before you step outdoors for the morning sprint, you will need the right footwear. For many first time runners that is often easier said than done.
Confusion is a familiar feeling when you step into a sporting footwear store for the first time. There are options galore; shoes with endless styles, colors, and features. You could ask the sales representatives to give you a low down on the best running shoes, but you know all you will get is a sales pitch. It would probably be a long day of deciding before you get out of that maze with something amazing.
My first time on to the tarmac I came home with bruised toes and aching arches. I was 40 lbs at that time and trying to cut down a few pounds. As I later found out my shoes were to blame, and not my inexperience. They were old shoes (brand name withheld) that frankly had nothing going on in the department of comfort and cushioning
I knew I had to address the issue, for I had vowed never to slunk back to sedentary living. I had a beautiful family and needed to be healthy to be around for them.  So what followed was trial and error, and there is a closet full of sporty shoes to prove my long search for running comfort. Adidas Energy Boost 3 did not exist at that time, but I wish it did. These neutral daily running shoes now address all the discouraging problems that first-time runners like me encountered.
Things to consider before buying a sporting shoe
Safety comes first. You don't have to be a pro runner to justify acquiring a shoe that is custom-fitted for your specific needs.  Getting the right running shoe is the first step you make towards healthiness. It is crucial that as you run for weight loss, you use running shoes that support your feet and reduce injuries.
Running is a high impact exercise.  Whenever you lift your foot and put them down when running, you generate an amount of force that is three times your weight. Without the right footwear to absorb this pressure, your feet will be at the mercy of injuries.
It would also be better if you considered your current fitness level and your ambitions.
In my case I was running for weight loss, doing 3 miles every morning. It is essential to understand how you can use your shoes to help you push past your limits. When you first start, you need something that is highly protective to reduce the risk of injuries. The amount of stability, springiness and cushioning you need depends on the intensity of your runs.
Do you have injuries?
Whether you have current injuries or suffered some in your past should inform the type of running shoes you pick. Experts generally recommend more support on the shoes. There can never be too much cushioning. Nonetheless, that should not compromise the lightness and flexibility of the footwear.
Spaciousness
Did you know that as you run, your feet gradually expand?  What compromises the comfort levels for most athletes and first-time runners is wearing their shoes too tight.  Experts recommend that your running shoe should have at least a thumb length of space at the front when you try them on. It is called wiggle room.
Midsole
This is the center of all cushioning in a running shoe. Many first time runners only pay attention to the upper design of the show, but ironically, the bottom is what matters most. You don't want shoes whose midsole will wear out after a first few runs. You will also do better with shoes that have proper support and flexibility.
Adidas Energy Boost 3 is the third installation in the Energy Boost series of sporting shoes by Adidas. This family of shoes is known for high energy return reportedly from a midsole optimized with Thermoplastics Polyurethane (TPU) foam.  The company promises a comfortable and springy run with this model of shoes. It appears that the most significant updates Adidas has made on this model are the Boost foam for the midsole and a beefier heel counter.
The sportswear company promises that the shoes are well cushioned and neutral for all levels of runners. This pair of sports shoes can be helpful for first-time runners that need adequate support and cushioning for their feet. However, be warned; the shoes are a tad pricier than the competition.
Pros of the Adidas Energy Boost 3
Cons of the Adidas Energy Boost 3
Feature of the Adidas Energy Boost 3
The company made the outsole in a way that it reduces the overall weight of the shoes. While this time they didn't use the Adi wear, Adidas has used rubber that is just a few mm thick. The rubber outsole is in the form of square grids with bits of exposed foam between the patches. This feature is beneficial for first time runners, helping to create a firm grip and prevent the risk of slips and resultant injuries.
The rubber and foam woven structure of the outsole enables the shoes to wear through from the center as opposed to the edges of the outsole. That is a good thing if you are the kind of person that wears shoes from the sides.
Runners can also have a high range of motion thanks to the Torsion system. This system runs from the forefoot to the heels. This strip of plastic running around makes it hard for the shoe to bend in itself- giving you more support every time your feet hit the ground.
The main highlight of the Adidas Energy Boost 3 shoes is the flexible midsole. The makers have achieved this quality by use of the Boost foam material. This cushioning material generates bounciness with every step. You will also find that the foam conforms to the curves and shape of your feet.
Boost cushioning is highly flexible and facilitates energy efficiency, meaning you will go further without draining your stamina. Unlike the Eva foam, Boost can stay without deformations for longer. For additional stability, Adidas Energy Boost 3 also features covers around the heel.
The upper of the Adidas Energy Boost 3 is made of breathable material and a flexible mesh. There might be a few overlays that restrict airflow but not to a great extent. Additionally, the toe box features perforations that allow more air in and out of the shoe. I found this breathable design particularly helpful for my sweaty feet when I run. I found it to be a great stink-prevention feature. Overall, the breathable design of the shoes allows for even greater comfort when working out.
Beyond the Boost foam cushioning, the shoes also have a 4-way stretch mesh on the upper side. This feature named Techfit improves the snug fit of the Adidas Energy Boost 3. And the plastic strap along the heel helps to tighten it, secure it in place and reduce movement during use.
It just is not a comfortable running experience when your shoes feel too tight in the toe areas. The problem with smaller toe boxes is that they can cause bruising and darkening of toenails.  That could escalate into painful corns and ingrown toe-nails. Thankfully, Adidas Energy Boost 3 solves this problem with a toe box that has sufficient room.
This is subjective, but I consider Adidas to be stylish footwear. Whether for working out or casual wear, you can pair the shoes with any clothing. You can also choose from a variety of bold colors.  The fact that there are a few overlays helps with the aesthetic appeal of the shoes. That is something that you will find convenient when you want to wear the shoes outside the scope of athleticism.
In my case with the old sneakers, the shoes were not supportive enough and caused the muscles at the bottom of my feet to contract with every step. It was a natural response to keep the shoes from slipping off when I was running. With time it led to a significant problem –aching arches and inflamed heels. Adidas has solved this problem with the Techfit wire mesh on Energy Boost 3.This harnessing provides a snug fit that reduces shoe movement when running or jogging.
What Other Users Are Saying
Many are chuffed to bits about the Adidas Energy Boost runner-friendly features. Some people love the Boost foam technology more than the other elements of the shoe.  Others like the aesthetic appeal of the shoes and the high comfort level that is made possible by the soft cushioning and breathable mesh. Here are some reactions from users: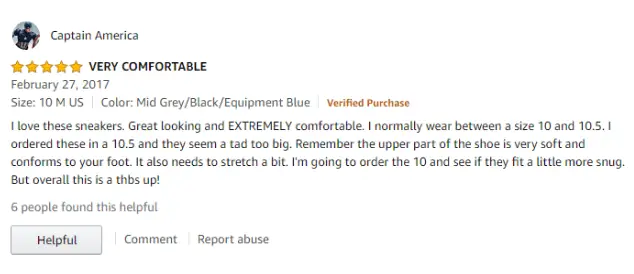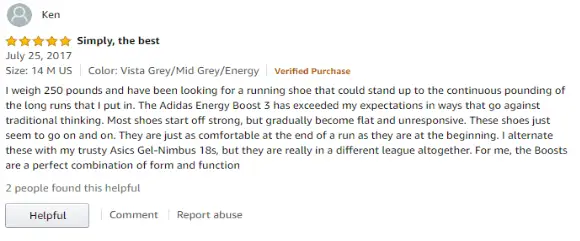 Alternatives to Adidas Energy Boost 3
Saucony Freedom ISO is another daily trainer that you could try. The Saucony Freedom ISO is much lighter than the Adidas Energy Boost 3. It has an eye-catching design and a cushiony sole for support. Unlike the Boost innovation in Adidas, Saucony uses Everun, their trademark for TPU foam that provides a high energy return just as the Boost in Adidas Energy Boost 3.
Saucony Freedom ISO is ideal for runners who do more than 20 miles a week.
They fall in between daily training and racers shoes. Skechers GOmeb is lightweight with a thicker tongue and extra rubber on the outsole compared to Adidas Energy Boost 3. For both, the upper is knitted for a snug fit. Gomeb uses what they call a 5 Gen Cushioning system. Subjectively, the BOOST foam system is much more superior with high comfort levels.
Nike LunarGlide 8 features the same design concepts as the Adidas Energy Boost 3 with a few differences. Nike's version feels more stable with firmer traction. Its level of comfort is average, and the level of cushioning is not as high as in Adidas. Nike LunarGlide is ideal for runners looking for lightweight sneakers that are stable and moderately comfortable.
Adidas Energy Boost 3 shoes are right for safety and comfort when running. These shoes will help you avoid complications such as bruised toes and toenails, inflamed heels, blisters and calluses. The kind of comfort and protection they offer is what you need to keep up with your fitness goals with no downtime from injuries. Click here to check them out.