5 Best Running Shoes for Flat Feet – Reviews & Buying Guide

In a world where lifestyle diseases such as obesity and diabetes are affecting many people across the globe, the fitness industry is receiving a lot of attention. Individuals are obsessed with staying fit. Celebrities are endorsing diets and swearing by exercise plans that have helped them lead healthy lives. Running is one of the physical activities that assist burn calories leading to weight loss.
However, when out running and jogging, it is essential to have the right gear. It has to do with wearing the right clothes and running shoes as well. If you have flat feet, you cannot wear any shoes. You need to purchase those that offer your feet the support they need and motion control depending on the severity of your condition. Do not worry. There are many brands on the market offering shoes just for you. Below is a review of the best five running shoes for flat feet.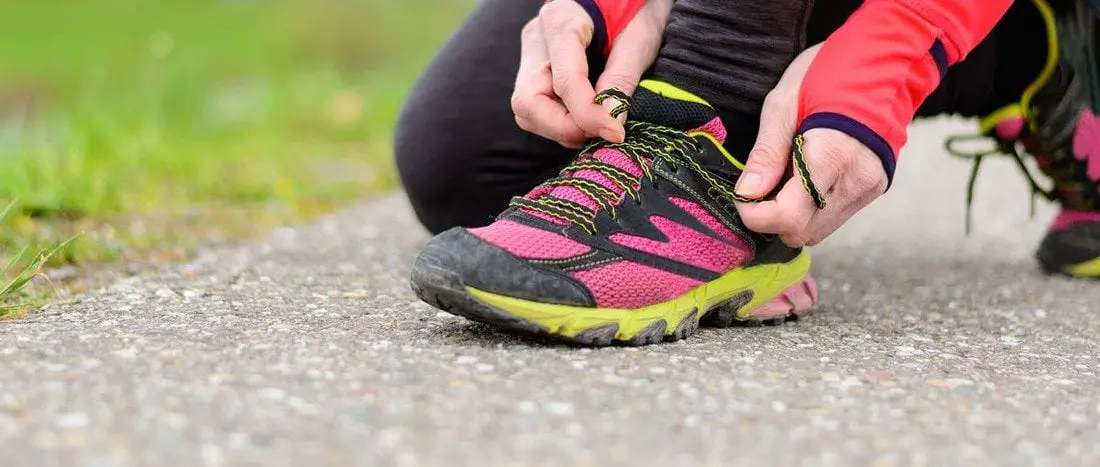 5 Best Running Shoes for Flat Feet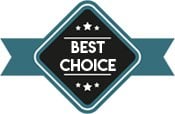 #1. Asics Gel Venture 6 Women's Running Shoes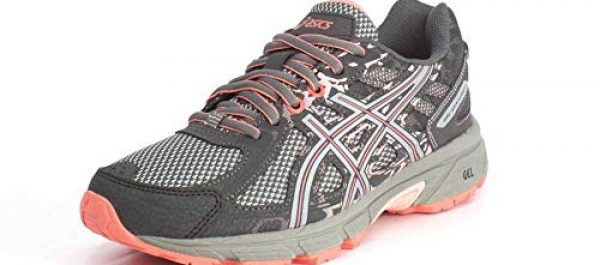 Asics offers your feet the support they need for stress-free runs. For example, it has sturdy cushioning on the rear that does a good job absorbing shock. It prevents you from feeling the impact of the bumps and potholes of the terrain on which you are running. The improvement made on the upper part of the shoe and the midsole boost its shock-absorbing capability.
The fact that the Asics entails a removable sockliner makes it easy for you to insert a medical orthotic instead, which increases convenience. An orthotic is a special insert that provides arch support and reduces the pain flat feet cause. With the reversed multi directional lugs on the outsole, this product provides you safe traction when running up and down slopes. Another thing about the outsole is that it is rugged, thus sturdy and resistant to damage. It will be long before buying another pair of Asics.
About material, Gel Venture 6 uses a high-abrasion rubber on the outsole to ensure the shoes last a while. It has been upgraded with a better midsole and upper that foster comfort and productive running. The shoe uses long-lasting synthetic material with a stitched toe bumper to ensure a snug fit and extra protection for your feet.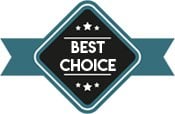 #2. Nike Men's Revolution 4 Running Shoes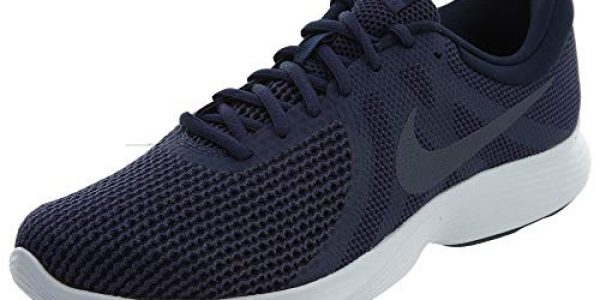 What Nike provides you are shoes meant to cushion your feet as you run on varying types of surfaces. This brand includes molded pods that flatten and spring back on impact offering you instantaneous cushioning. The shoes are designed for athletics with a midsole that consists of soft foam for extra cushioning. The reinforcement on the underlays at the toe tip and in the vamp provides your legs more support for a smooth run.  
Nike does not have rubber on selected parts of the outsole. The whole of it is all-rubber meaning more traction and cushioning for fulfilling runs. Are you worried about your feet sweating too much? These running shoes for flat feet prevent that, as they have breathable upper parts consisting of a single layer of mesh. The midfoot has no overlays, therefore allowing proper air circulation inside the shoes.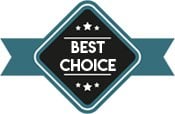 #3. Asics Gel Nimbus 20 Men's Shoes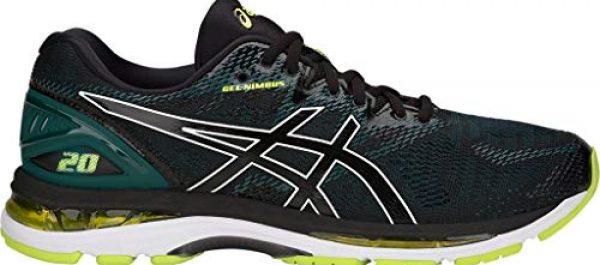 You are preparing for a race, or perhaps running is an essential part of your workout routine but somehow the shoes you are wearing are letting you down. It is time to try Asics Gel Nimbus 20 Men's running shoes. They are comfortable with a supportive construction.
Asics men's shoe has a flytefoam midsole. It incorporates organic fibers that contribute to responsiveness and bounce back when running in addition to providing proper cushioning. The forefoot and rearfoot have gel cushioning that absorbs shock and allows movement on varying terrains.
That is not all. Nimbus 20's upper structure uses fluid fit Asics tech that includes stretch reinforcement and a multidirectional elastic mesh that ensure the shoe fits like a glove on your feet. With the heel clutching functionality, you get a better fitting and boosted support.
Asics Gel Nimbus 20 has been on the market for two decades. That is enough time and experience for the company to have developed flat feet men's shoes of superior quality and top-notch functionality.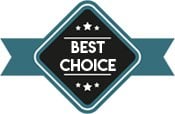 #4. Brooks Addiction Walker Women's Shoes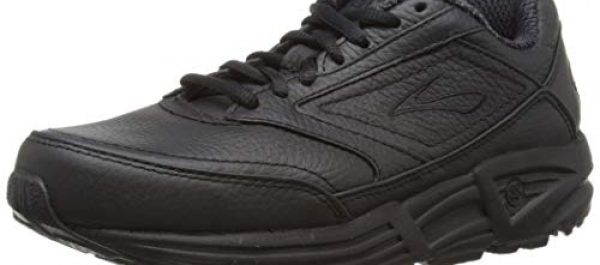 As one of the top five running shoes for flat feet, Brooks offers women shoes that support low arches. They also provide control over over pronation. Note that these are walking shoes. Wear them as you run errands around town. You can even jog and run in them, as you strive to stay fit.
Brooks' construction is unique. Its midsole cushioning is energy-returning, which improves your workouts. It gives you an extra push to cover more miles. The upper part of the shoes is made from full-grain leather that is supple to allow you to run comfortably. Supple leather flexes no matter how you twist or maneuver the shoe. This ensures long-lasting use.
The outsole is anti-slip saving you from accidental falls even on slippery grounds while the traction of these shoes is high-end to sure your safety on the road.
Apart from supporting your feet through cushioning, Brooks also helps a lot with motion control. It has an innovative design with an intriguing name 'Addiction Walker'. You will find yourself wearing these shoes wherever you can considering the support and comfort you will get from it.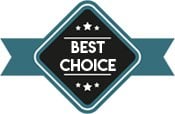 #5. Mizuno Wave Inspire 14 Women's Running Shoes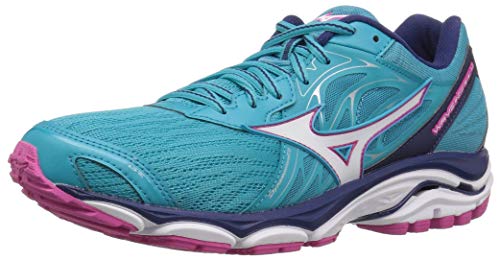 One of the crucial things Mizuno Women's running shoes offer is breathability. They have an air mesh upper design that boosts circulation. The last thing you need is running around with shoes that make your feet sweat more. Your legs end up sliding as you run which can be hazardous and cause injuries.
Mizuno is soft and stable, thus ensuring comfort and confidence when running. The upper part provides flexible support for runs while the soft sock liner promotes arch support and feet cushioning. With the U4ic midsole, you will be getting extra cushioning meaning safe running and additional support.
Factors to Keep in Mind When Purchasing Running Shoes for Flat Feet
As mentioned earlier, flat feet need shoes with arch support and motion control. Therefore, you cannot afford to buy any running shoes you come across. If you do, you risk hurting yourself and making your condition worse. That is why you have to be keen on the kind of footwear you purchase.
Flat shoe manufacturers back their products claiming they are safe and effective. It becomes difficult deciding which brands to buy. Even after identifying that a specific shoe brand suits flat feet, there are certain factors to consider before purchase. Continue reading to find out.
You should buy shoes made from firm materials that foster stability. Rubber is an excellent example of suitable material for the outsole and upper part. For the midsole, foam can offer the cushioning and comfort your feet require when running. It is soft and comfortable. The midsole also guards against shock by absorbing it so you can enjoy your runs.  
Construction is about different parts of running shoes the rear and forefoot, the toe tip, midsole, and outsole. Make sure that you buy shoes that have a proper structure. They should fit well, be comfortable, and provide arch support. This way, you can be sure of running confidently without worrying about sliding or falling.
Great running shoes are lightweight but sturdy to make movement easier. You want to run and not be weighed down by heavy running shoes. If you have severe flat feet, you need shoes that provide motion control to ensure proper movement. Therefore, the heel should be stiff to prevent slipping.
Every superior running shoe is breathable. It features a mesh structure that encourages airflow around your feet. It does not only prevent smelly feet but also provide comfort when on the go. You do not want to run with sweat inhibiting your strides and causing you discomfort. Besides, wet shoes due to sweat will force you to wash them every day, which can be an inconvenience. Buy breathable shoes to save yourself the trouble.
Durability has to do with the materials used in making shoes and construction. High quality materials guarantee lasting running shoes. Besides, stitching boosts strength, as shoes do not rip apart fast. Footwear with a robust, firm design last longer than those with a weak structure.
Understanding the Flat Feet Condition
Perhaps you do not have flat feet, but a loved one is suffering from the condition. It is a physical problem that makes the feet lack their natural arch. Usually, the middle part of your foot does not touch the ground when standing. That is not the case for people with flat feet because their entire feet touch the ground or have a low arch.
Flat feet can be mild or severe. A mild flat foot has a lower arch than it should naturally have; therefore, requiring shoes with arch support. With the severe condition, a person's entire foot feels the floor calling for shoes that offer motion control. The disease does not have to affect both feet.
What are the effects of having flat feet? For example, they cause heels of shoes to wear out on one side or wear faster than they should. Besides, one may have an uneven distribution of body weight. A child with flat feet trips or falls often.
What are the symptoms of flat feet? Individuals with flat feet may experience feet, hip, ankle, knee, calf and lower back pain. The discomfort occurs due to legs not aligning themselves, as they should.
Causes of Flat Feet:
Some of the causes of flat feet include:
Weak arches

Genetic(hereditary causes)

Foot and ankle injuries

Rheumatoid arthritis

Nervous system or muscle diseases such as cerebral palsy and spinal Bifida

Old age
If you have diabetes or obesity, you are at a higher risk of developing flat feet.
Whom Do Flat Feet Affect?
A flat foot is a condition that affects both children and adults. When arches in the feet do not form well as a child grows, it is likely that he or she will develop flat feet. You may not have flat feet now, but an ankle or foot injury can cause it. As for the elderly, flat feet occur when the tendon that supports the arch gets damaged causing it to flatten.  As we age, our feet undergo wear and tear that weakens the arch making it drop.
Treatment
Wearing supportive shoes such as the five brands we have reviewed is one way of treating flat feet. Consider stretches as a form of exercise to make your calf muscles flexible. If you are obese and with flat feet, you need to lose some weight.
Conclusion
Having flat feet is not the end of life. The condition is not curable, but it is manageable. There are several things you can do to ease the pain and discomfort, which includes wearing the right running shoes. Just because your feet are flat does not mean you cannot run. Purchase shoes that support your arch and which offer motion control to ensure you run well and have fun worrying about falling.
The five best running shoes for flat feet in the review are examples of shoes worth buying. They are comfortable, supportive, and durable. As you go shopping, keep in mind the factors we have discussed. Just because a manufacturer says their shoes are great does not mean you have to buy them. Remember to check the material used in making the shoes you what to buy, their durability, construction, and breathability. This way, it is easier identifying a great pair among the many brands on the market.